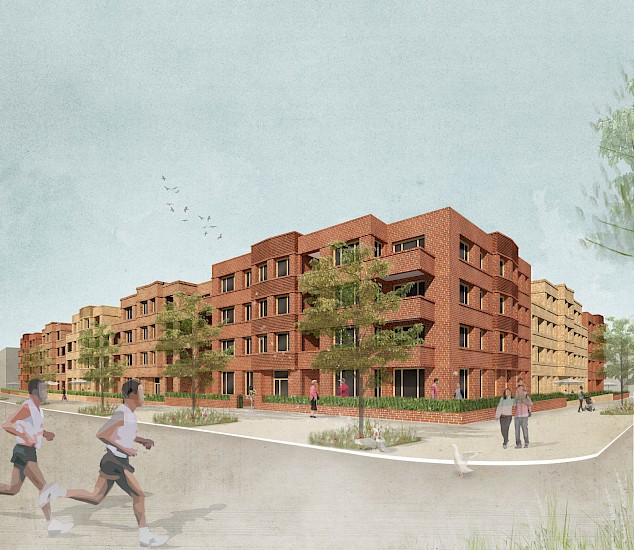 City block
Location: Hannover
Year: since 2019
Residential units: 107
Gross floor area (GFA): 12 400 m²
Client: GWH Wohnungsgesellschaft mbH Hessen
Project team: Till Apsel, Nina Böllinger, Dorna Khan, Rieke Schepker, Axel Hess, Ingrid Husanu, Nils Lamm, Jialin Lin, Elena de la Natividad, Wiebke Nolte

Address: Kronsrode Nord, Baufeld A11, 30539 Hannover
Scope: 83 apartments, 24 townhouses
Visualisation: Dena Khan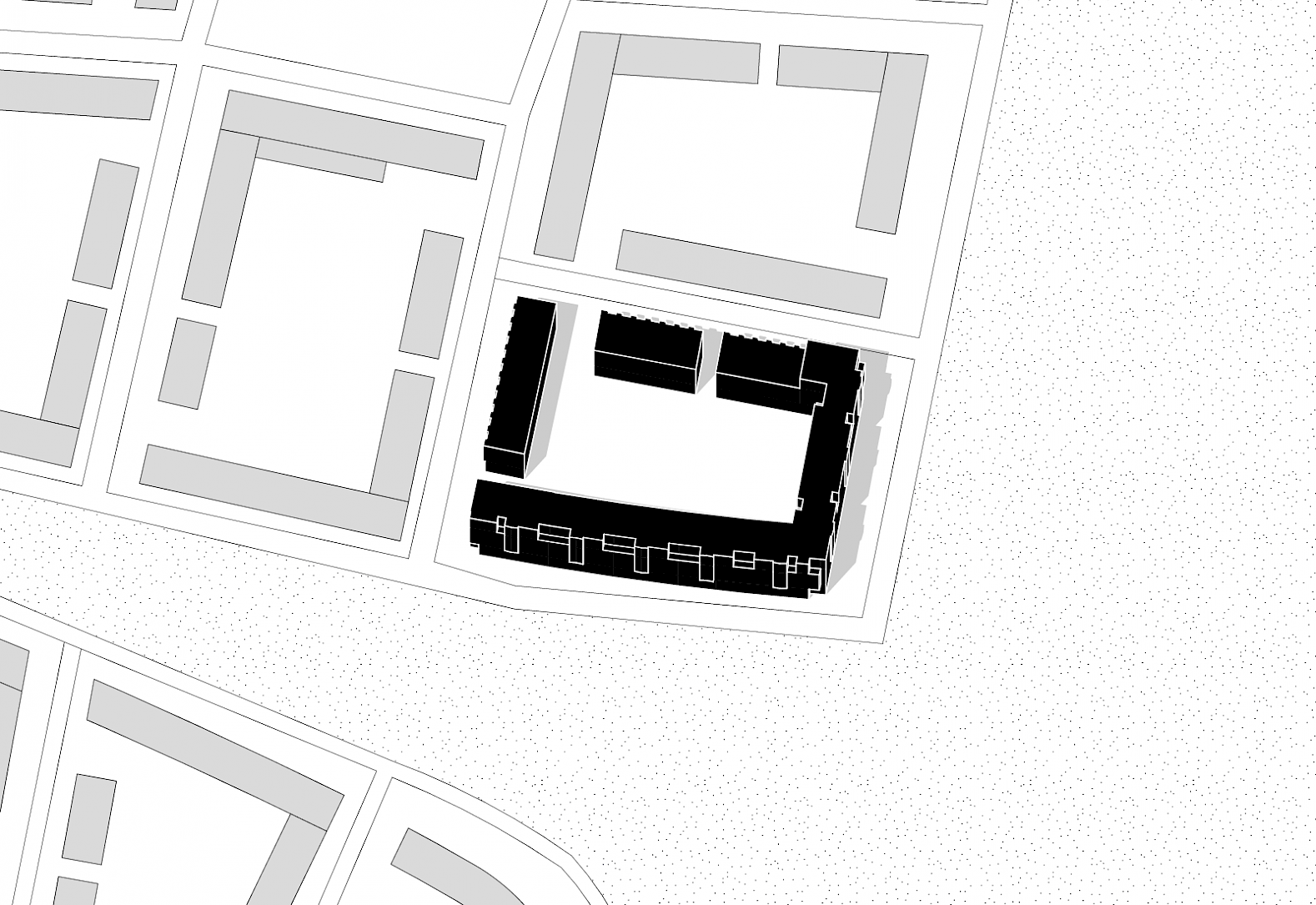 The development plans for EXPO 2000 in Hannover included a longer-term plan to create a new residential district in the south of the existing district of Kronsberg. "Kronsberg-Süd", now under construction, will provide around 3,500 apartments for 7,000 people. For GWH Wohnungsgesellschaft, Stefan Forster Architekten is creating a perimeter-block development consisting of seven apartment buildings and 24 townhouses on the northern part of the site. The perimeter is penetrated in places to open up to the interior of the residential district.
A common design element in the block is the clinker brick façade, in different shades of red. This also fits in with the colour concept for Kronsberg-Süd and echoes local building traditions. As well as the varying colours of the clinker brick, the individual buildings are distinguished by differently designed projecting and recessed sections and in the treatment of the corners and end sections. Particular care is taken with the sculptured modulation of the façades, featuring projecting and recessed sections, clinker-brick relief detail, brick-on-end courses and cornices. All the buildings are accessed direct from the street via a small forecourt in the front-garden zone, where there are also benches and spaces to park bicycles. The inner courtyard, which is at the level of the raised ground floor, has a central landscaped area for use by the residents. Within this area there are differently designed sections, planting schemes and spatial sequences. The lounges in the apartments all open onto this courtyard, with an outside space that is either a loggia, a balcony or a terrace. The townhouses on the west and north sides of the block each have a private garden as well as their own roof terrace. Two of the seven apartment buildings are intended for subsidised rental accommodation.
Wettbewerb (Hannover): 1. Preis für Wohnquartier in Kronsberg Süd
Wettbewerb (Hannover): 1. Preis für Wohnquartier in Kronsberg Süd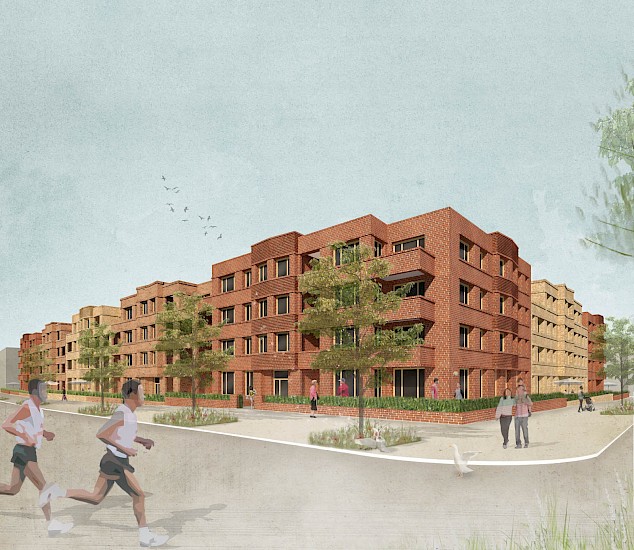 Im Realisierungswettbewerb für das Neubaugebiet Kronsberg Süd in Hannover wurde ein weiterer Entwurf von Stefan Forster Architekten ausgezeichnet. Im "Areal Nord" (Baufeld A 11) entsteht ein Quartier mit sieben Wohnhäusern und 24 Townhouses im Auftrag der GWH Wohnungsgesellschaft.