City block
Location: Dresden
Year: since 2021
Residential units: 151
Gross floor area (GFA): 16 840 m²
Client: WiD Wohnen in Dresden GmbH
Project team: Yvonne Merkt, Till Apsel, Xiaoyan Wu, Lisa-Maria Fromme
Address: Käthe-Kollwitz-Ufer, Dresden
Visualisierung: Dena Khan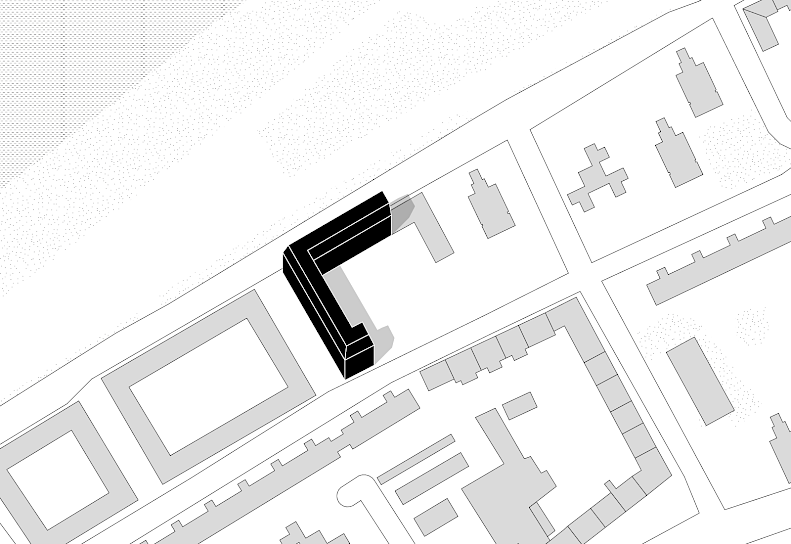 In Dresden, Käthe-Kollwitz-Ufer stretches for about three-and-a-half kilometres along the south bank of the river Elbe. Once a prestigious address, the street was laid out in the early 20th century – with denser development at the western end, and a more open arrangement of villas in the east. After the Second World War, rubble from the bombed city centre was piled here, mostly in the western section of the street. This explains the higher ground level and poor quality of the building land at that end. The plot for this new development lies between two bridges, Albertbrücke and Waldschlößchenbrücke, on a former caravan site. The once continuous line of development has been broken up as a result of bombing and post-war urban planning in GDR times. Prefabricated buildings and high-rise apartment blocks came to dominate the context, mixed in with fragments of the old perimeter-block structure.
In terms of design this residential development on Käthe-Kollwitz-Ufer takes its cue from the old city-block structure, and the idea of presenting an urban border towards the river. The architectural language, too, draws on historical motifs such as can be found on Thomas-Müntzer-Platz (400 m east of this project). Elements such as the triangular gables and projecting bays, and the characteristic red roof landscape, have been adapted and re-interpreted. Also, the articulation of the façade – with a high-quality sandstone base storey, carefully contoured rendering and above, the orange-red "platform roof" (or "Berlin roof") – references local building traditions. Horizontally the parapet strips and continuous cornices are picked out in different colours. Expressionistic projecting bays mark out the inner organisation of the blocks: a group of three at each entrance, and a group of two between each section.
The generously sized, landscaped inner courtyard is at the level of the raised ground floor and kept free of buildings. Seating and play areas underpin its function as a collective space for the residents. The difference in height between the street and the courtyard gives rise to a small public square on Florian-Geyer-Strasse.
The project encompasses a total of 152 rental apartments, of which 119 are subsidised and 33 privately financed. The client is WiD, a local authority housing developer founded in 2017.