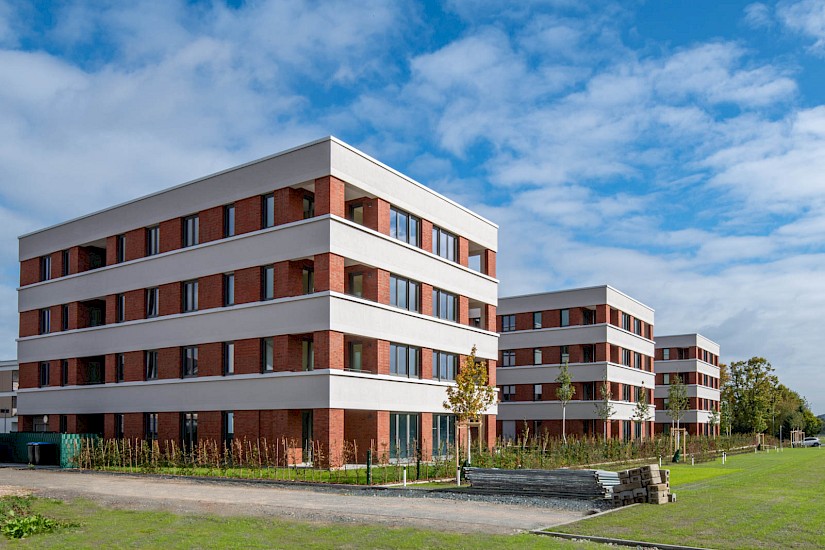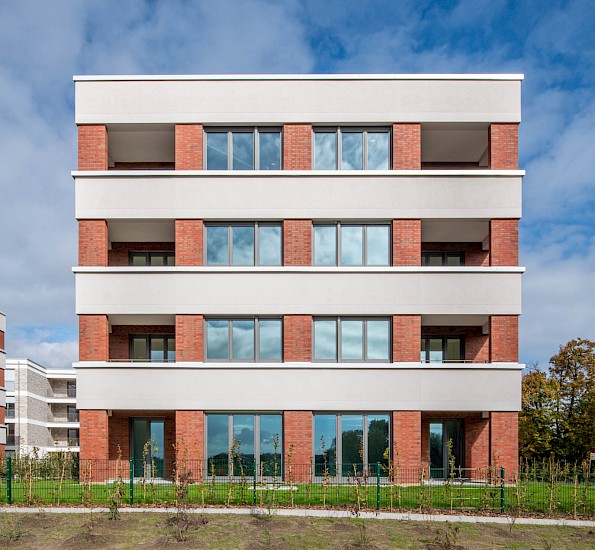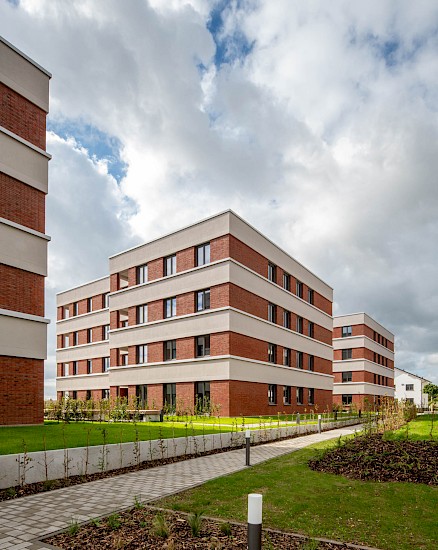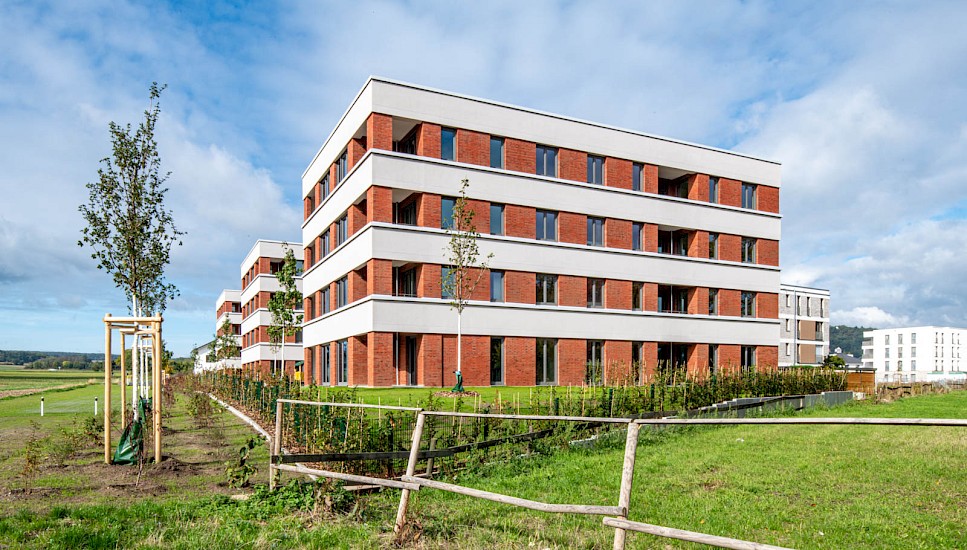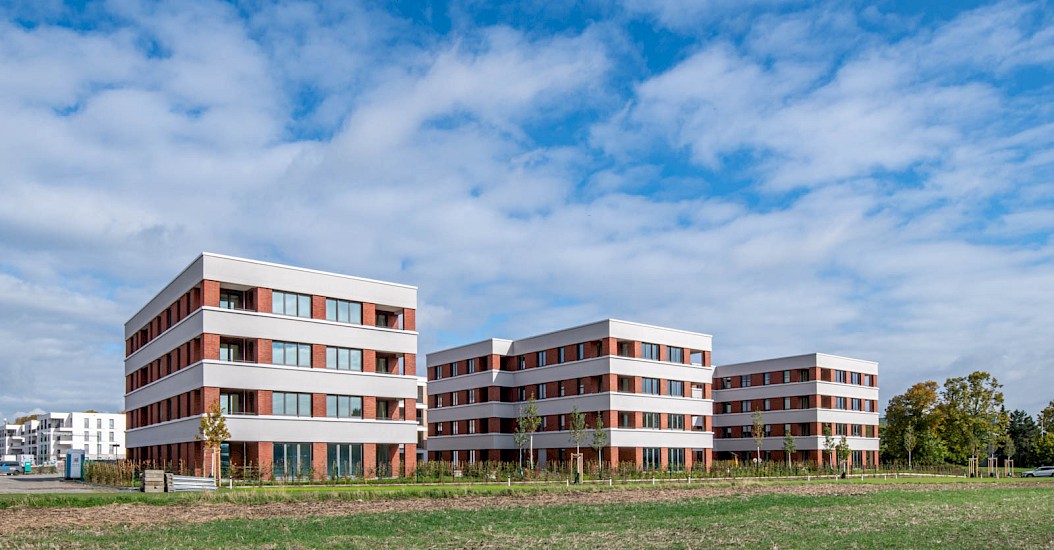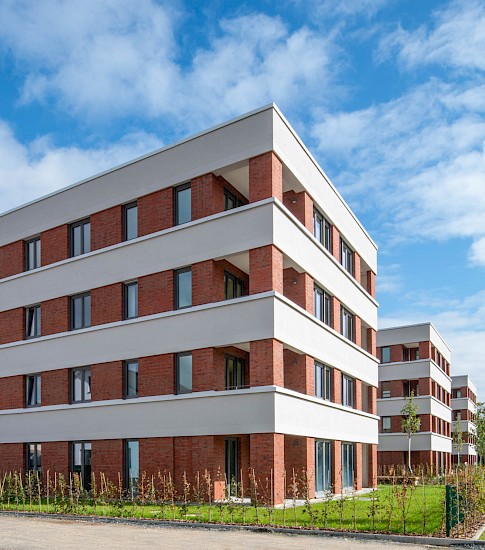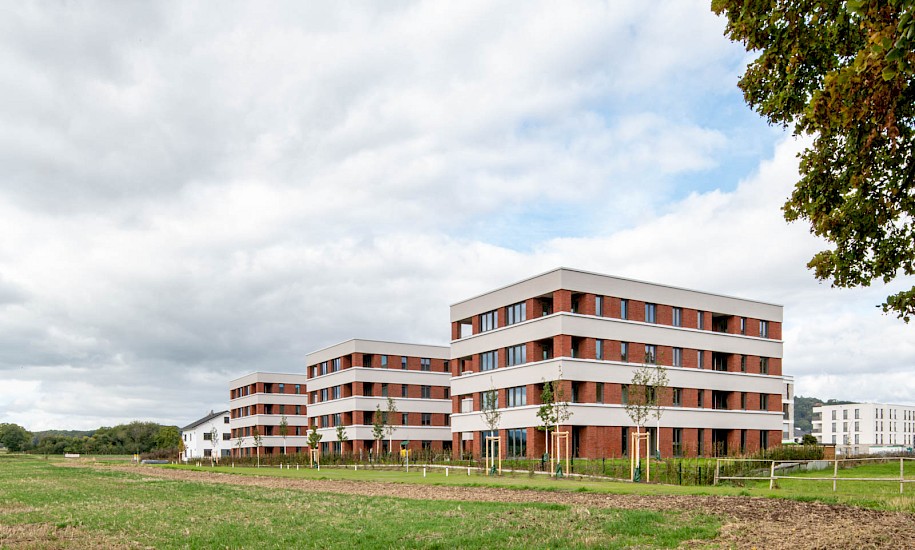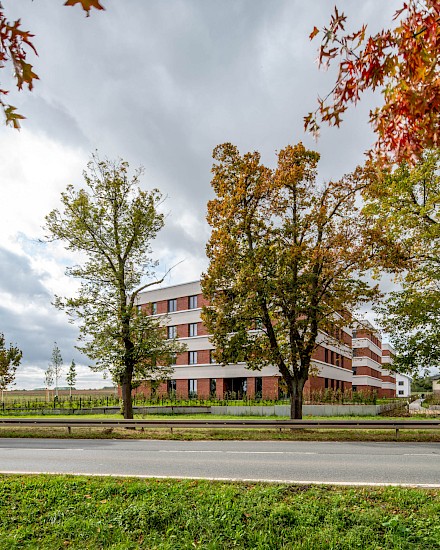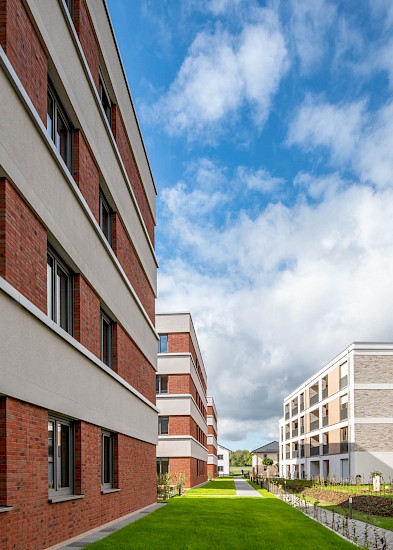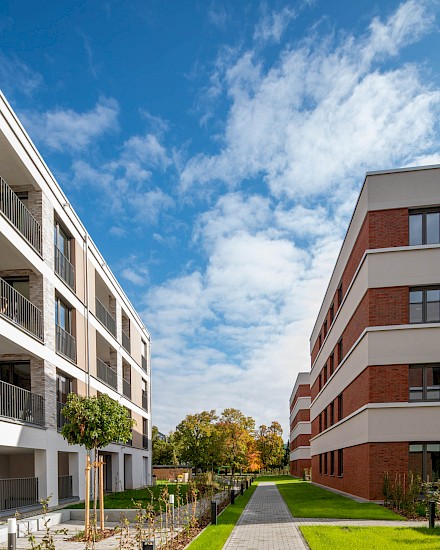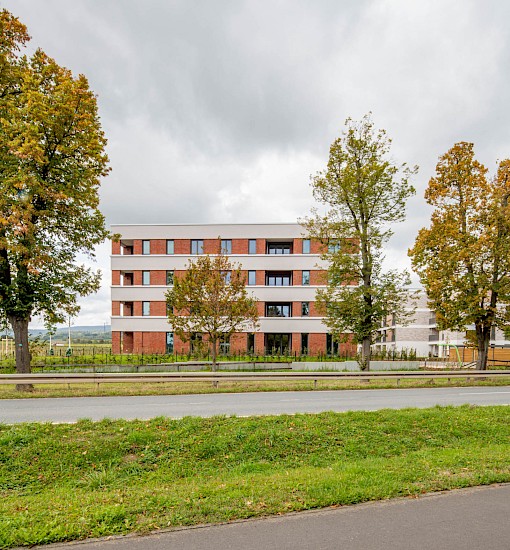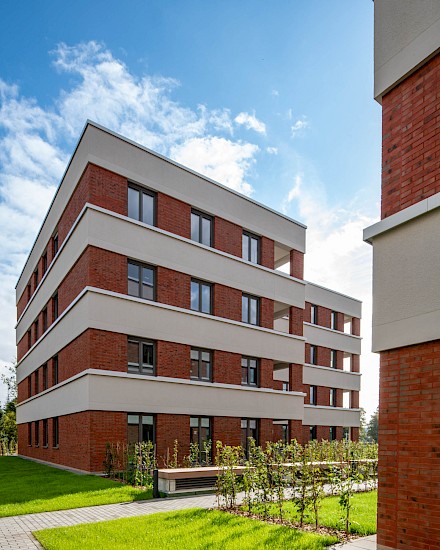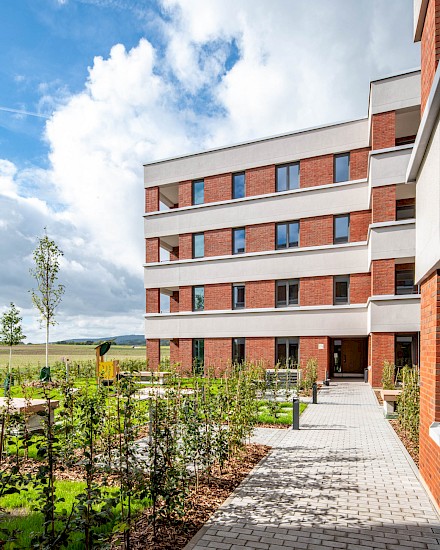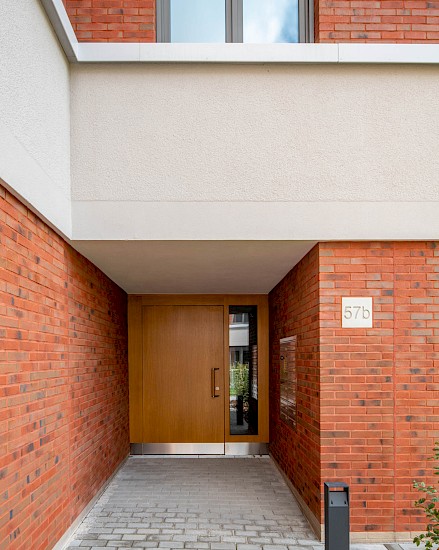 Housing estate
Location: Bad Nauheim
Year: 2022
Residential units: 42
Gross floor area (GFA): 4 350 m²
Client: GeRo Real Estate AG
Project team: Benjamin Metz, Ahmed Ibrahim, Manon Jochem,

Nils Lamm,

Cristina Naranjo, Wiebke Nolte, Manuel Rhöse, Rieke Schepker
Address: Hermelinweg, 61231 Bad Nauheim
Photos: Lisa Farkas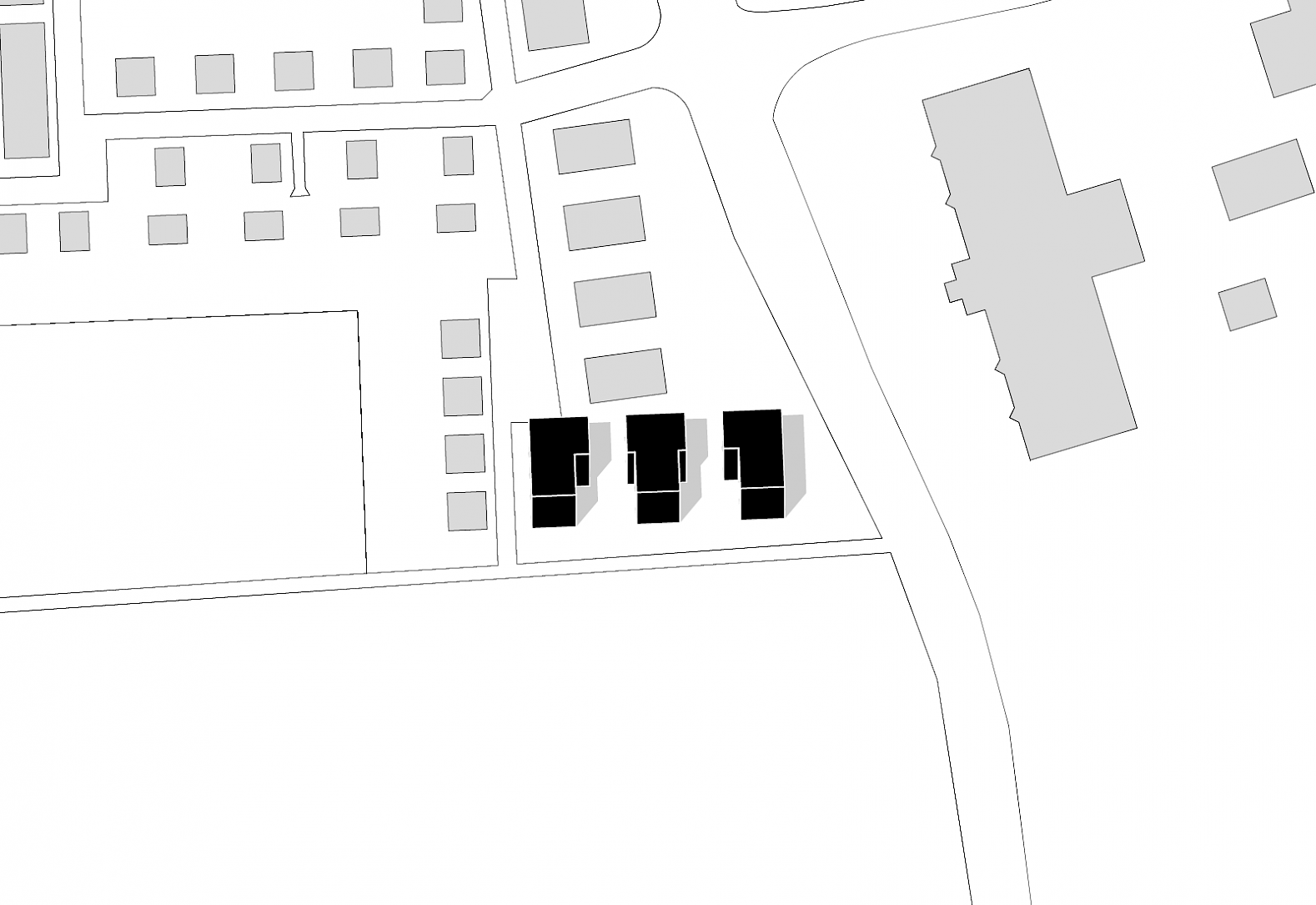 On the southern edge of the spa town of Bad Nauheim, about 30 kilometres north of Frankfurt am Main, a new residential district is to be built. The proposal from Stefan Forster Architekten is for a group of three solitaire buildings, each different in shape and narrower at the southern end. Between the three L-shaped and T-shaped buildings are two south-facing courtyards for communal use, carefully landscaped to enhance the protected character of the ensemble.
Access to the buildings is also via these courtyards. A continuous clinker-clad base storey and horizontal bands of fenestration alternating with clinker surfaces serve as a unifying element in the complex and give the façades an air of quiet, ordered calm. The buildings, each containing four apartments per floor, are constructed using a special kind of Poroton brick filled with mineral wool, a solution that optimises energy performance while retaining a traditional wall construction. Bike-sharing stations in the courtyard and charging points for electric cars in the basement car park are part of the sustainability concept.
Auswahlverfahren (Bad Nauheim): 1. Preis für Wohnanlage in Bad Nauheim
Auswahlverfahren (Bad Nauheim): 1. Preis für Wohnanlage in Bad Nauheim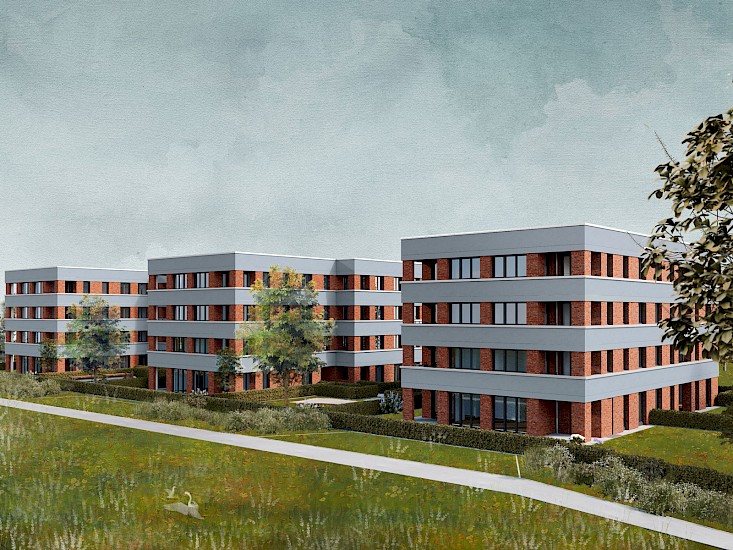 Im Rahmen eines eingeladenen Investoren-Auswahlverfahrens gewinnen Stefan Forster Architekten den 1. Preis. Der Entwurf für die Neubebauung in Bad Nauheim basiert auf einer Abfolge mehrerer Solitärbauten, die jeweils anders ausformuliert sind und gemeinsame Quartiershöfe bilden.