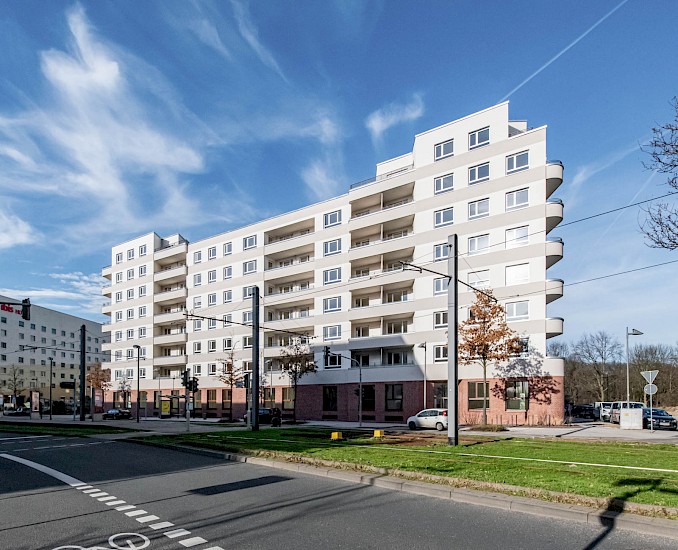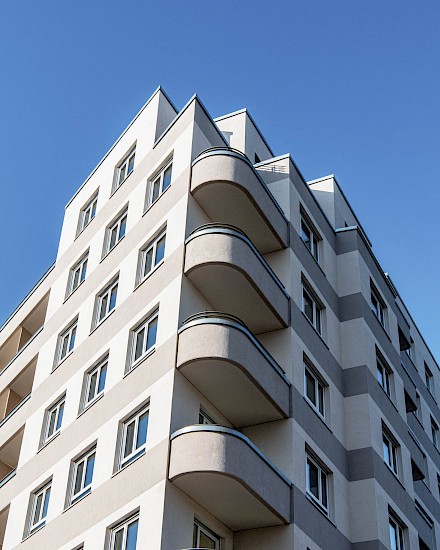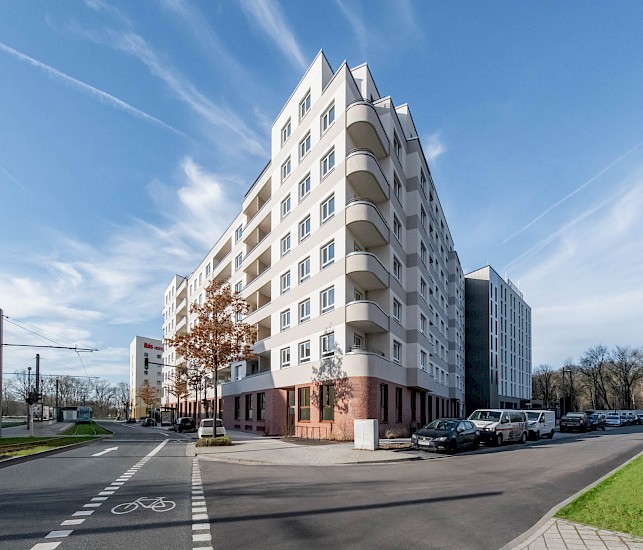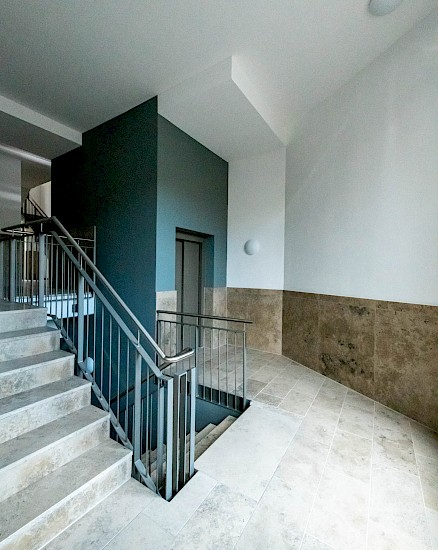 City building
Location: Frankfurt am Main
Year: 2020
Residential units: 121
Gross floor area (GFA): 1 460 m²
Client: Instone Real Estate Development GmbH
Project team: Benjamin Metz, Holger Haas, Alex Malapeira, Wiebke Nolte, Nora Vitale, Peng Wang
Address: Leonardo-da-Vinci-Allee 32–36, 60318 Frankfurt am Main
Photos: Lisa Farkas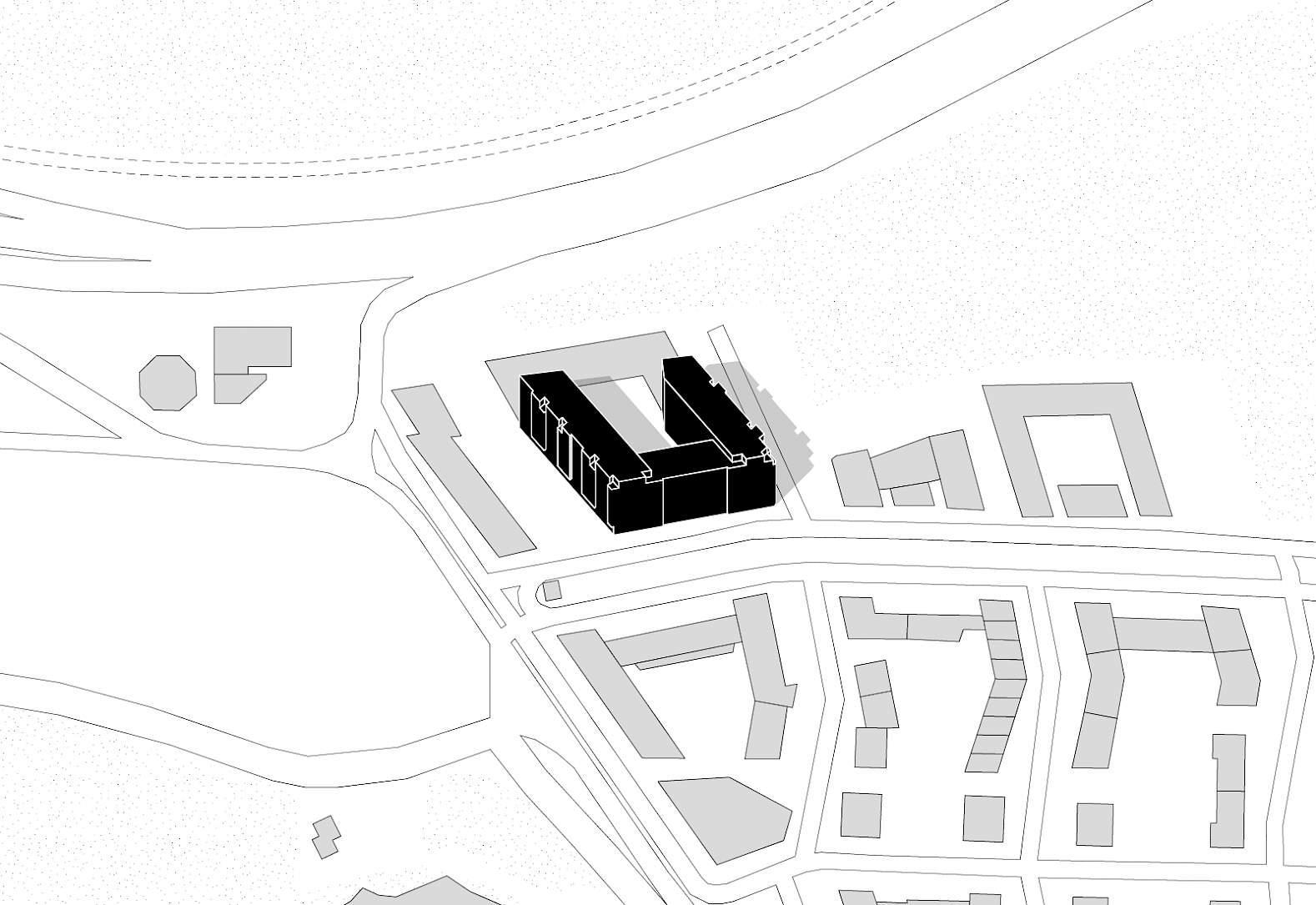 This apartment building is located on Leonardo-da-Vinci-Allee in the Rebstock district in the west of Frankfurt. The master plan for the development of this district was developed in the mid 1980s by Peter Eisenman, on the principle of "folding", i.e. linear buildings "bent" to follow the topography of the site. These design principles formed the basis for a development plan which originally earmarked this plot for an office building as it was little suited to housing. The present figure of the new building is a compromise between the design concept from Eisenman´s time and the requirements of a residential building.
The U-shape of the seven- to eight-storey volume sets up a clear spatial border to Leonardo-da-Vinci Allee, and provides an enclosed courtyard on the inside, mainly used by the children´s day nursery on the ground floor as outside space. The quality clinker-brick base storey, the coloured parapet lines and the slightly offset balconies add rhythm to the façade. A total of 121 apartments is being created, 30 percent of which are subsidised rental apartments for social housing tenants. A broad range of apartment sizes is offered, from two to five rooms. All the apartments with three rooms and more have dual aspect and benefit from a generously sized outside space.
Grundsteinlegung für neues Wohnprojekt im Frankfurter Rebstockviertel
Grundsteinlegung für neues Wohnprojekt im Frankfurter Rebstockviertel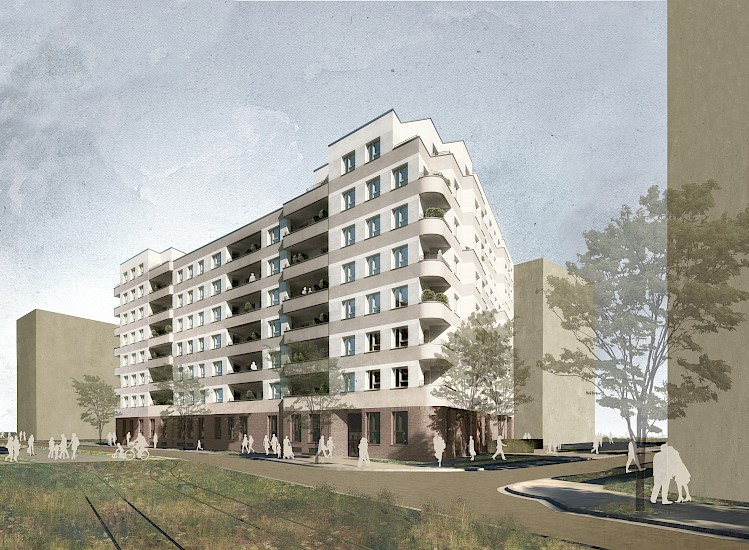 In der Leonardo-da-Vinci-Allee in Frankfurt entstehen 121 Wohnungen und einen KiTa. Zusammen mit Instone Real Estate und der Nassauischen Heimstätte feierten Stefan Forster Architekten am 11.04.2018 die Grundsteinlegung. Die Frankfurter Rundschau und die Immobilien-Zeitung berichteten.