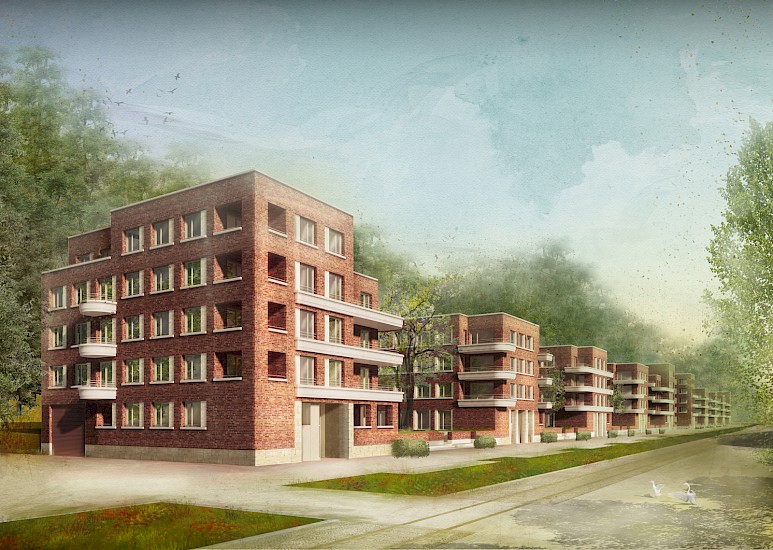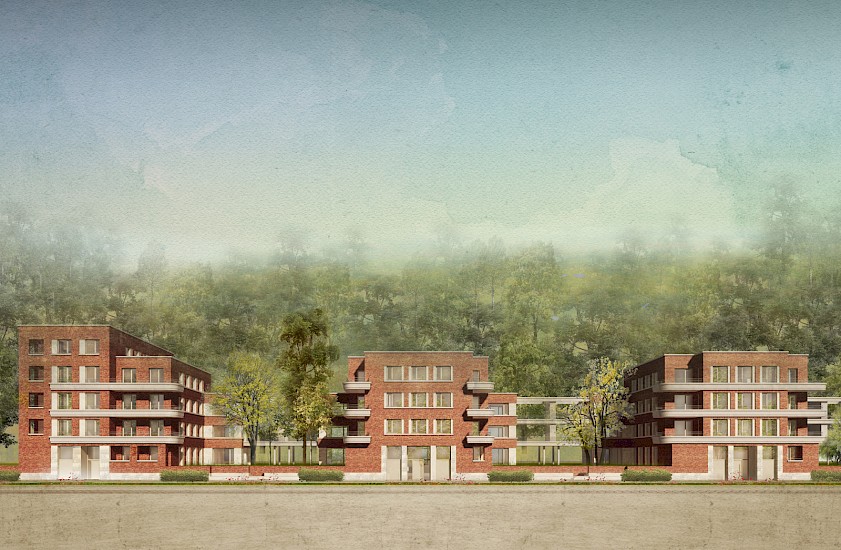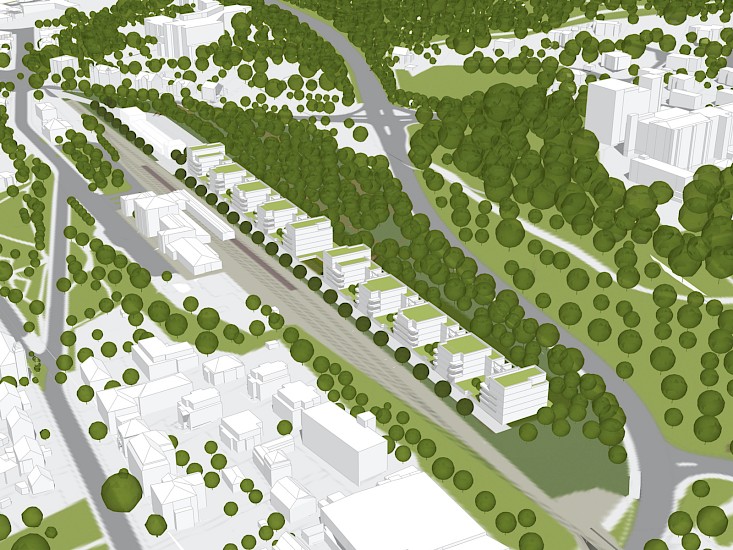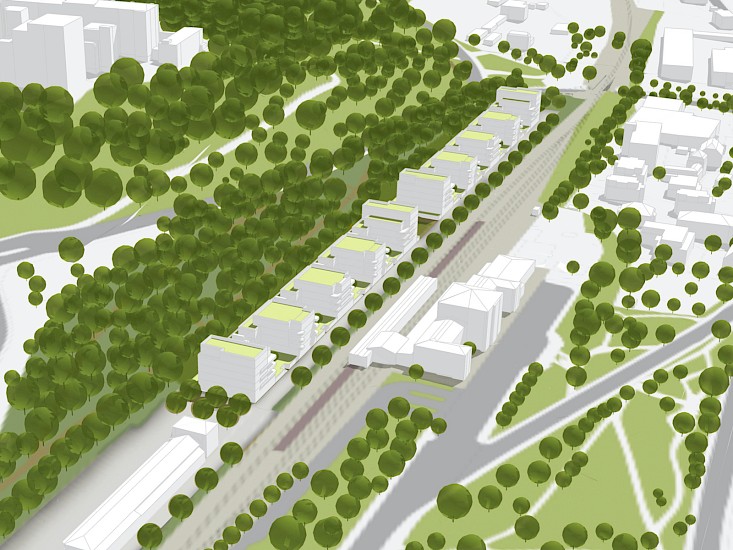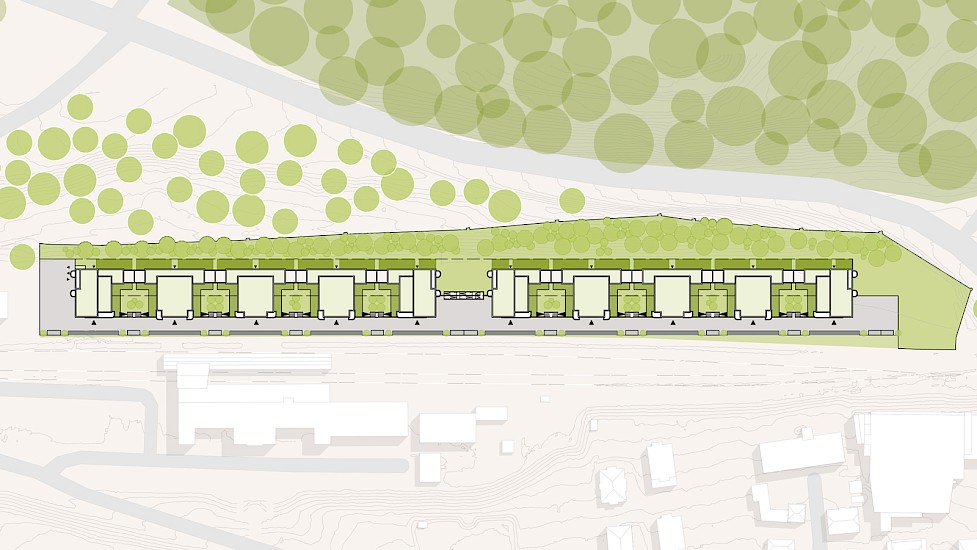 Housing estate
Location: Bad Kissingen
Year: since 2022
Residential units: 163
Gross floor area (GFA): 18 250 m²
Client: Prinzregentenpark GmbH & Co. KG
Project team: Yvonne Merkt, Till Apsel, Dorna Khan, Nils Lamm, Alexandra Andrei, Sabrina Neise
Address: Prinzregentenpark 1–10, 97688 Bad Kissingen
Visualisation: Dena Khan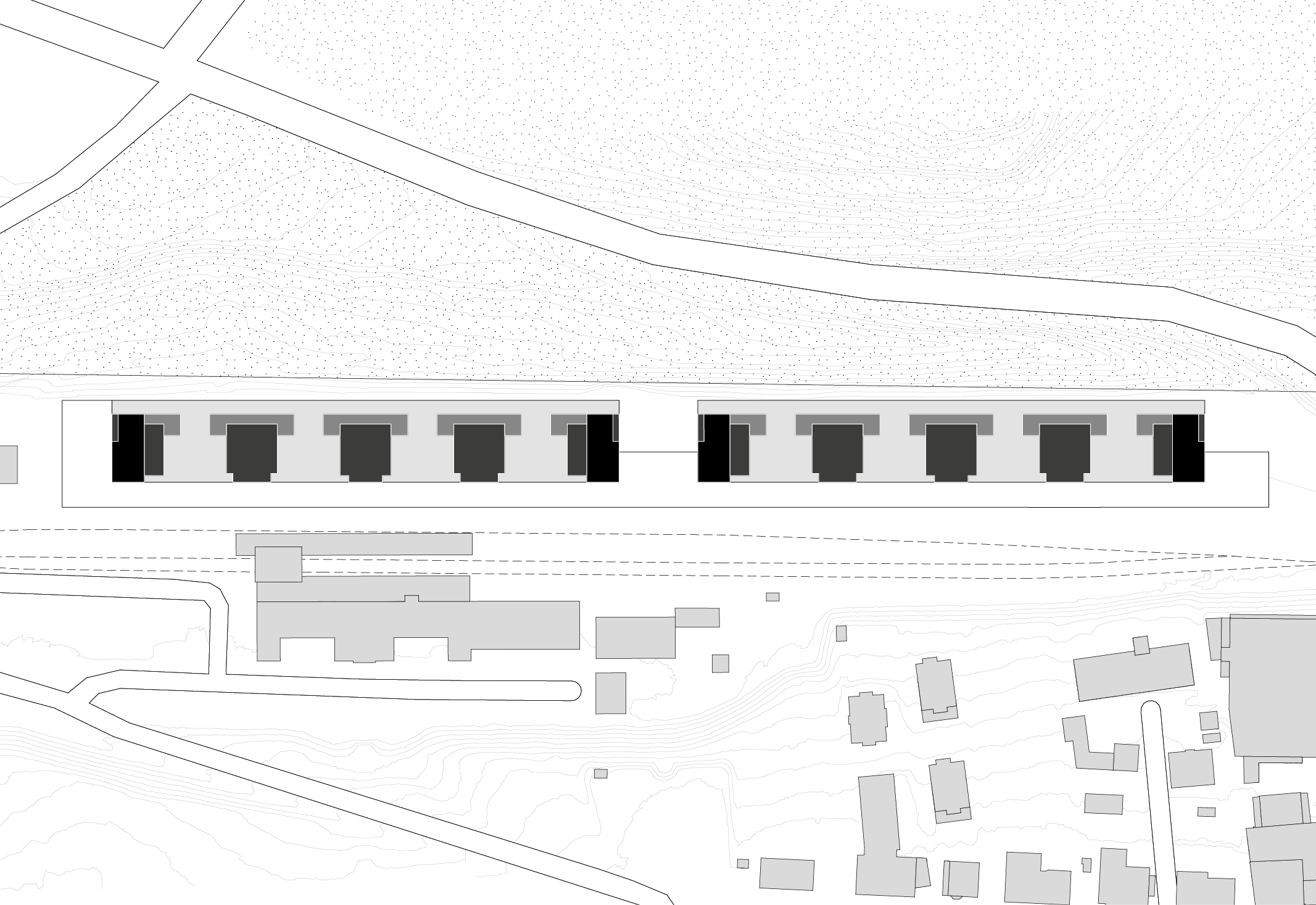 "Prinzregentenpark" is the name of a new residential complex to be built close to the centre of Bad Kissingen, within an area given World Heritage status by UNESCO, the town being designated one of the "Great Spa Towns of Europe". The linear plot is on disused land very close to the railway station, on the west it is bordered by tracks, on the east side are green spaces protected as a biotope, and also the Jewish cemetery. The plan envisages ten villa-like individual blocks, arranged in a line, and divided into two groups of five. The buildings at each end of the two rows are given added architectural emphasis in the form of an extra storey set back from the façade. A clinker brick wall encircles the entire complex, giving definition and identity. Between the blocks are gardens and public spaces, at the level of the raised ground floor. Free-standing loggias of slender construction provide the residents with plenty of covered outdoor space while preserving the important visual link with the biotope behind.
Particular attention is paid in the design to the sculptural quality of the building volumes: sections of the façade project and recede, corners are incised and short wings project at the rear. The external impression is characterised by reddish-brown clinker brick combined with light-coloured architectural concrete, and balcony parapets of artificial stone. Above-ground car parking is rejected in favour of an underground car park stretching underneath the buildings.
Instead of a conventional composite system of thermal insulation, masonry blocks filled with insulating material were chosen. The energy concept envisages a combination of different energy sources, such as biogas and wood pellets, as well as photovoltaic (on the roof of the adjacent former goods shed) and cogeneration. Roof areas that are not used as terraces serve as retention basins for rainwater, thereby playing an active role in flood protection. In total the new complex will comprise 163 high-quality freehold apartments ranging in size from one to five rooms.