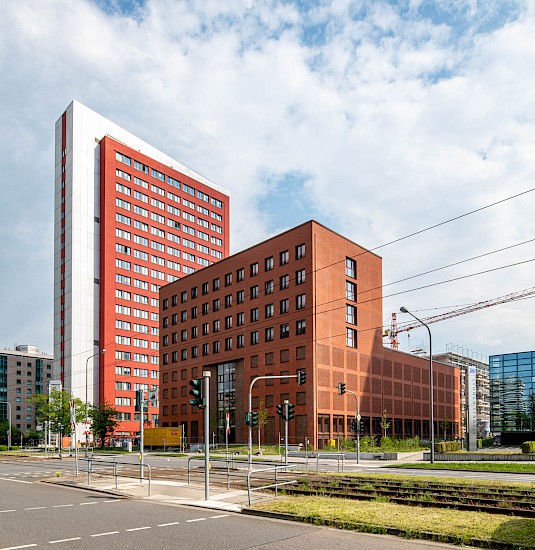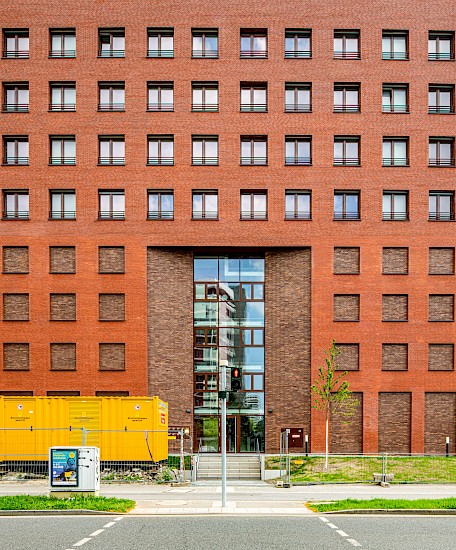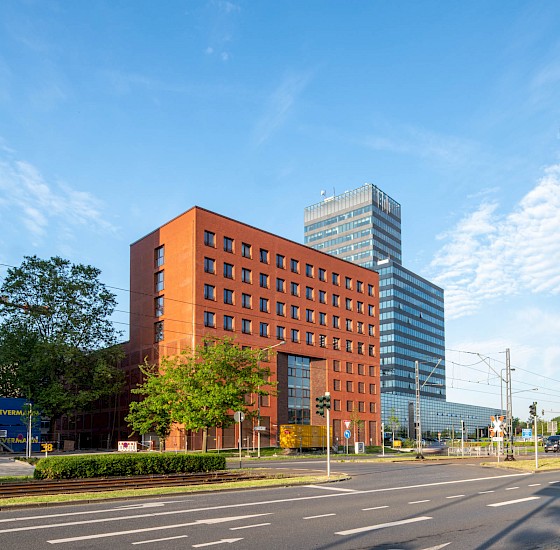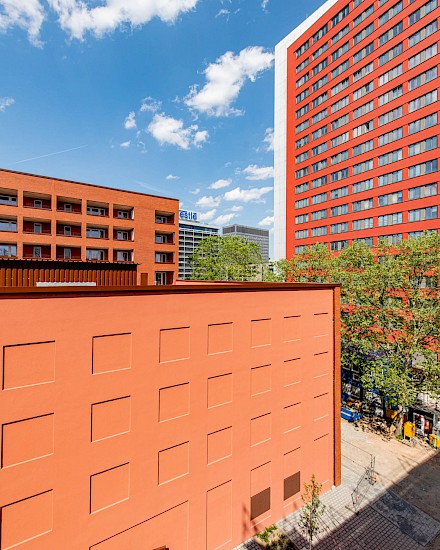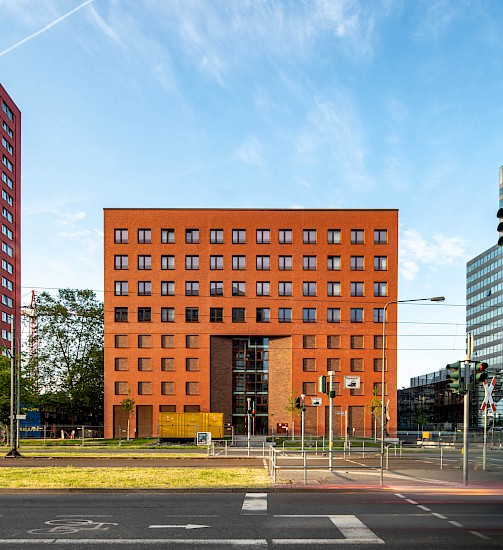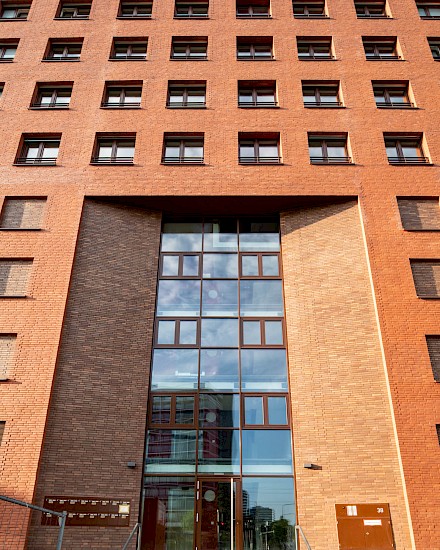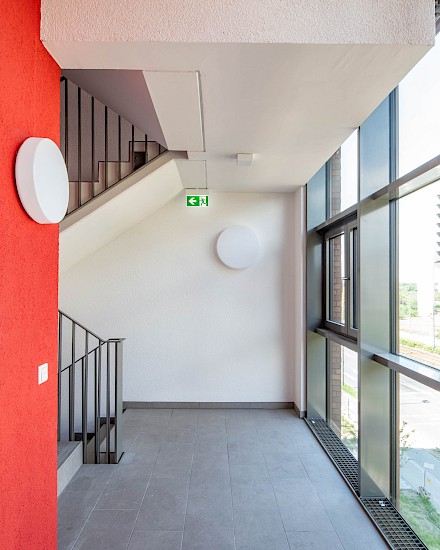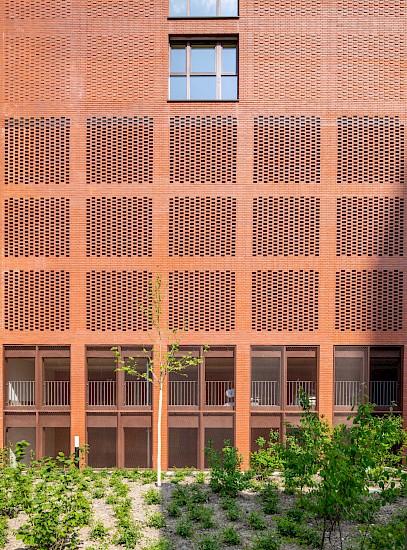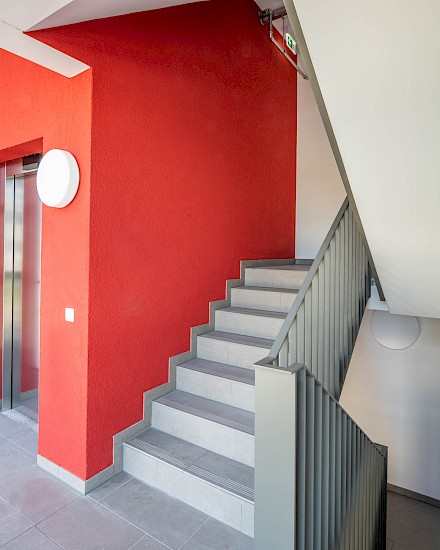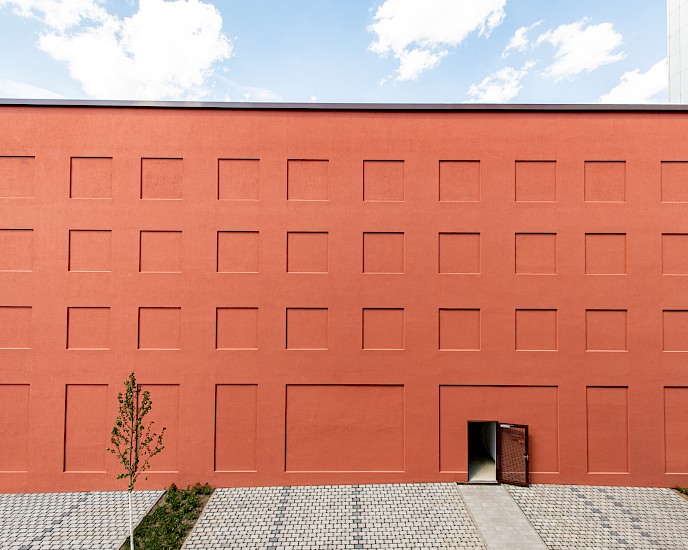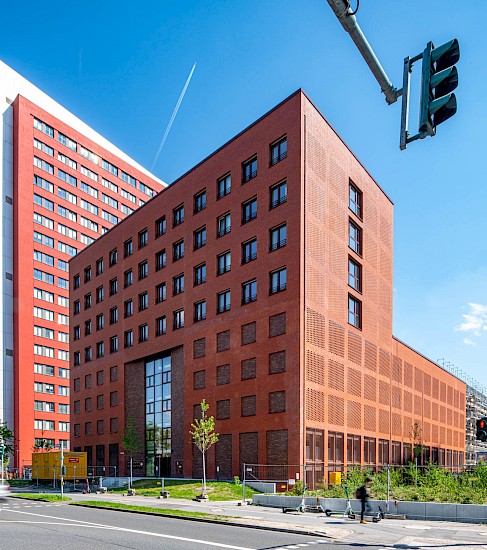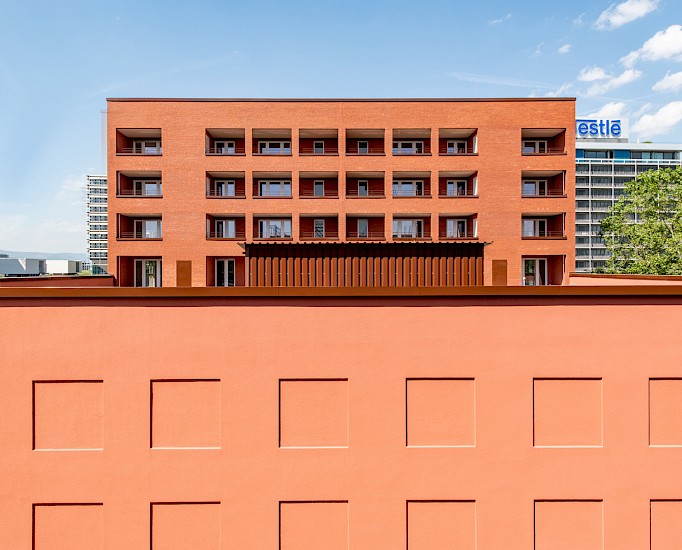 Housing estate
Location: Frankfurt am Main
Year: since 2020
Residential units: 158
Gross floor area (GFA): 21 900 m²
Client: GWH Bauprojekte GmbH
Project team: Attila Bende, Josipa Granic, Eppo Haas, Ahmed Ibrahim, Ulrich Ricker, Newa Wanner, Xiaoyan Wu
Address: Lyoner Straße 38, 60528 Frankfurt am Main
Other functions: community car park
Photos: Lisa Farkas
Since 2010 work has been underway on a project to transform Niederrad, a former business district now called "Lyoner Quartier", into an area for both living and working. During this period Stefan Forster Architekten transformed three empty office buildings here for residential purposes – among them a 1970s high-rise on the southern border of the district (Lyoner Strasse 03), for the housing company GWH Wohnungsgesellschaft. Supplementing this are now two further buildings between Lyoner Strasse on the north and the urban woodland on the south. Facing the street is a cubic, eight-storey building volume with apartments above a multi-level car park. This is accompanied by a separate residential building laid out in the shape of an "S", and enclosing two courtyards.
The four-storey car park is for use by residents of both these buildings, and also of the adjacent high-rise block. The strictly rationalist design of the façade of the combined apartment building with car park, reminiscent of Aldo Rossi, is realised in a warm red clinker brick which draws references to the strong red of the high-rise. The indented line of the low-rise block, which forms the backdrop, takes up this colour theme in alternating clinker brick and reddish render. All the three- to five-roomed apartments in the two buildings are dual aspect and have generously sized outdoor spaces in the form of loggias or terraces; only the two-room apartments look out onto one side only. The extensively greened flat roofs, intended as a kind of "fifth façade", are variously landscaped and have paths through them.
Richtfest für Wohnprojekt Lyoner Straße 04 in Frankfurt
Richtfest für Wohnprojekt Lyoner Straße 04 in Frankfurt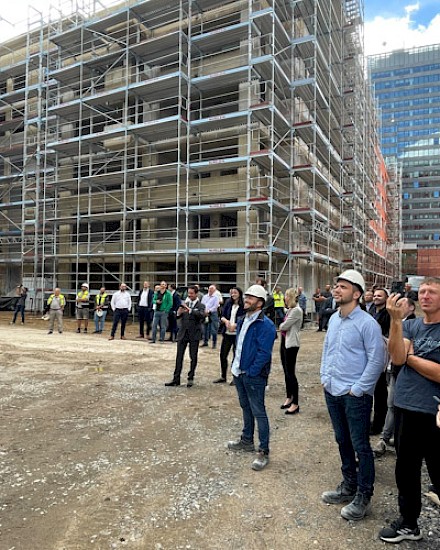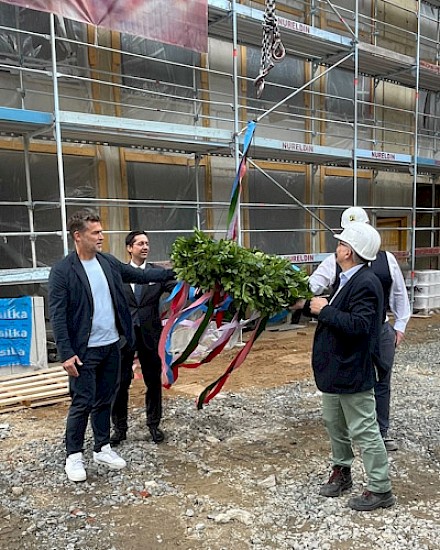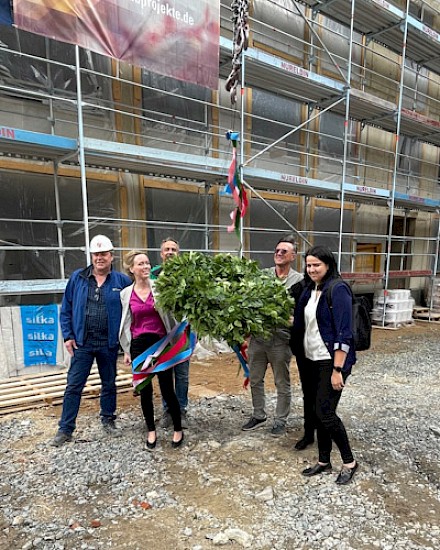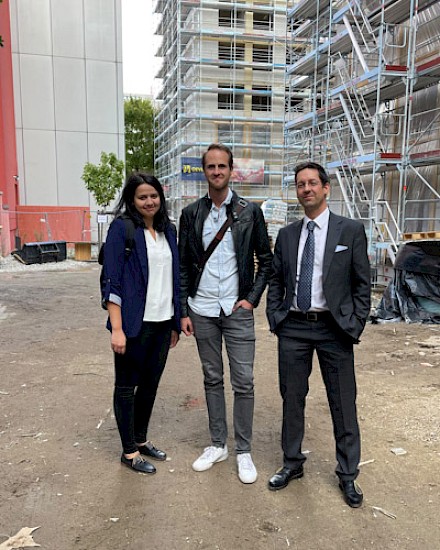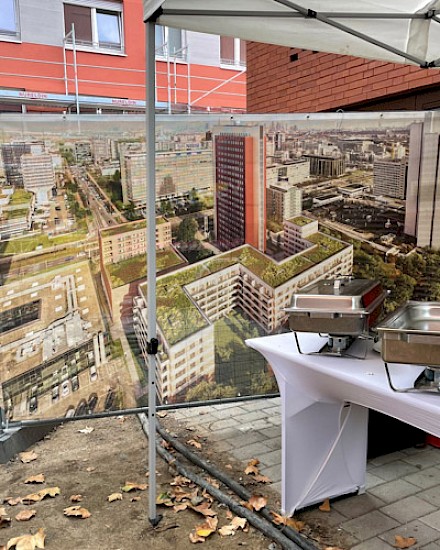 Zusammen mit der GWH Bauprojekte GmbH haben wir am Donnerstag, den 8. September 2022, das Richtfest für die Quartiersentwicklung Lyoner Straße 04 in der ehemaligen Bürostadt Niederrad in Frankfurt gefeiert. Das Projekt steht im Kontext der Transformation der Bürostadt in ein gemischt genutztes Stadtquartier – dem neuen "Lyoner Viertel". 
Drei Gebäudeteile bilden hierbei ein Ensemble: Das vom Büro- zum Wohnhaus transformierte Hochhaus (Lyoner Straße 03), das fertiggestellte Parkhaus mit darüberliegenden Wohnungen sowie der S-förmigen Wohnanlage im hinteren Bereich des Areals, die den Anlass für das Richtfest gegeben hat. Die drei Baukörper bilden einen gemeinsamen Quartiersplatz, der hintere Gebäudeteil bindet das Hochhaus räumlich ein und schafft den Abschluss zum Stadtwald.
Projekt: Lyoner Straße 04, BPRaktuell, 2/2022
Projekt: Lyoner Straße 04, BPRaktuell, 2/2022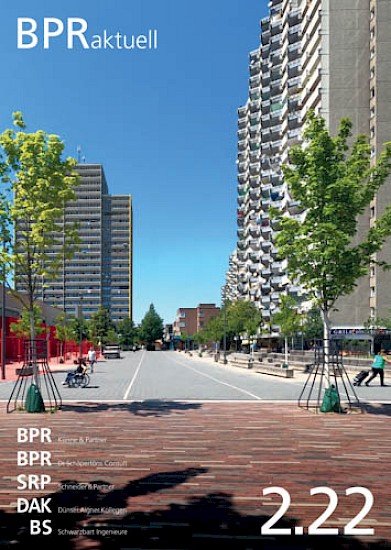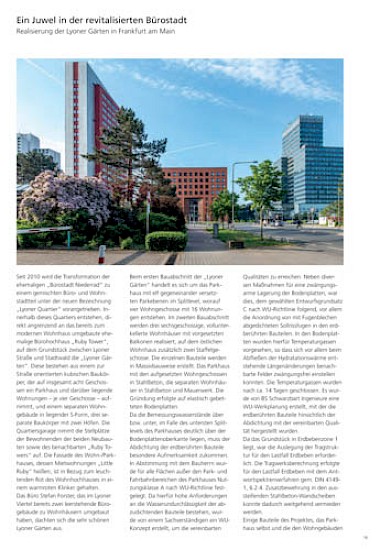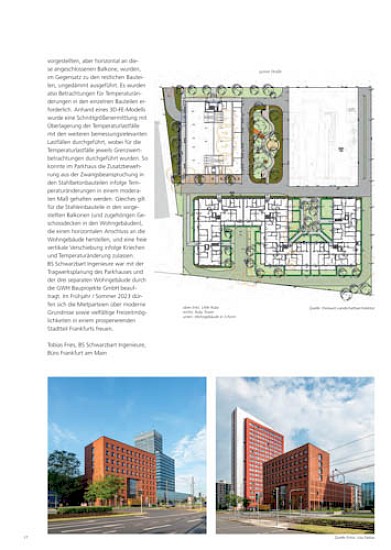 "Ein Juwel in der revitalisierten Bürostadt": In einem Fachbeitrag für das Unternehmensmagazin der BPR-Gruppe beschäftigt sich Tobias Fries (BS Schwarzbart Ingenieure) mit der Tragswerksplanung für den ersten Bauabschnitt des Projekts Lyoner Straße 04. Die Quartiersgarage mit kombinierter Wohnnutzung wird im zweiten Abschnitt um einen dahinterliegenden, S-förmigen Wohnbau ergänzt.